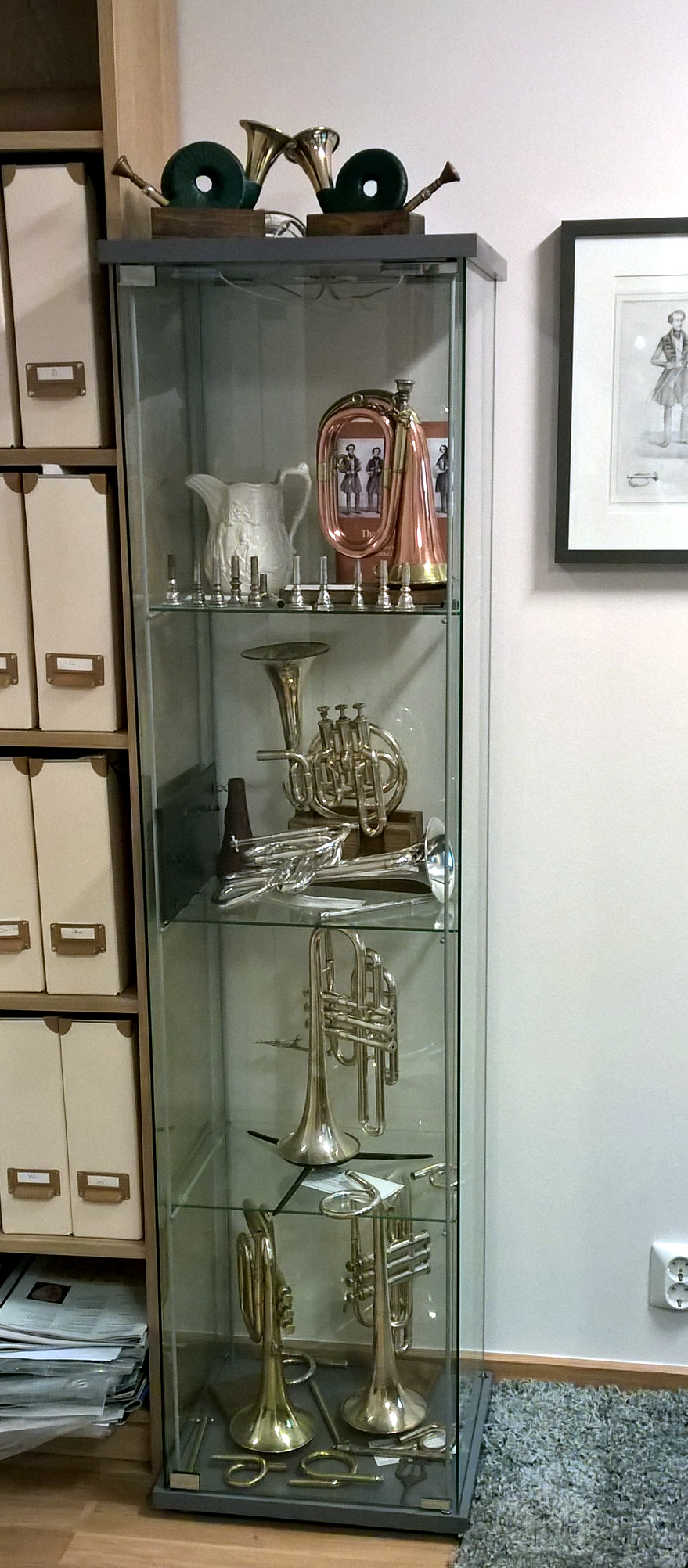 Bugle in Bb
Made 1868c by:
DISTIN & Co.
MAKERS
9 & 10 GT NEWPORT ST
LONDON
20295
Henry Distin's brass instrument manufacturing company made hundreds of bugles for the military which used them for relaying signals.
 The bugle is a conical bore brass (and copper) instrument pitched in various keys and limited to the notes of the harmonic series. It was introduced to Britain around 1760.
Cornet in Bb with crooks to A, Ab & G.
Made in 1860c by:
HENRY DISTIN
LONDON
9 Gt NEWPORT ST
Interesting features are the S-shape of the lead-pipe, the two Stölzel valves with a central Périnet valve, and the pearl inlay.
The decorative mouthpiece is also made by Distin.

Cornet in Bb with crooks to A, Ab & G
Périnet valves
Made 1850c in Paris and imported by Henry Distin.
 PARIS MAKE IMPORTED
By
HENRY DISTIN
MILITARY INSTRUMENT
MAKER
31 CRANBOURN ST
LONDON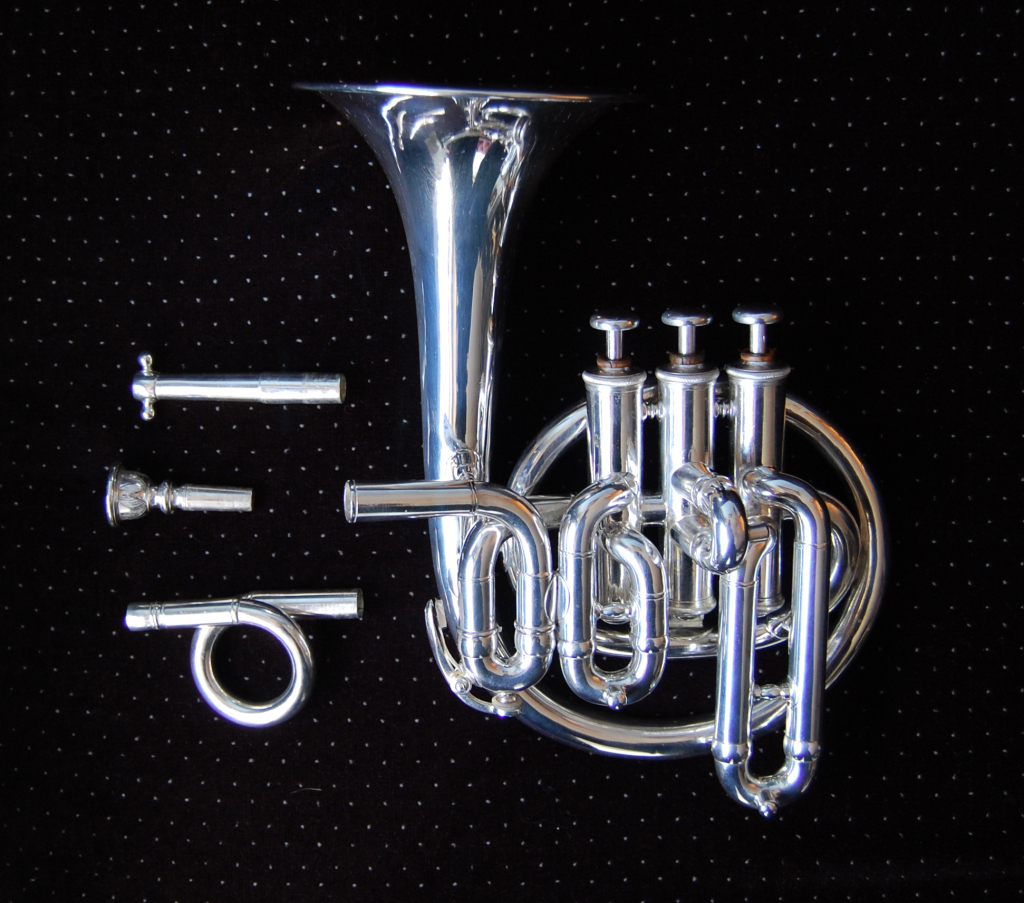 Ventil horn/ upright cornet
(with three Périnet valves. Pitched in C with crook to Bb)
Made  1860c
The initials J. P. are roughly stamped on the mouth-pipe. (J. Pepper or John Pask?)
It could possibly be a member of the ventil horn family promoted by the Distins in 1848
February 15th 1848 Distin Family performance at Drury Lane:
'Distins Patent Sax Horns, as used by themselves, to be had only at their Repository, 31, Cranbourn Street.
A case of new Besson Cornets just arrived. Distin's new Ventil Cornet requires no crooks: the real Courtois, eight guineas.'[1]
The Distin Ventil Horn Union was active as a performing group for
several years around 1858.
HENRY DISTIN'S VENTIL HORN UNION
 Possible identification
Back Row: Kurutz/Saunders/Krill/Davies/Taylor/Distin
Front row: West/Duhame/ Prospère
Ventil horns were made in a range of sizes and pitches in an attempt to replace saxhorns in brass bands.
 
Cornopean
made by Henry Distin in 1862c.
With three Stölzel valves and pitched in Bb
Stamped:
HY DISTIN
9 & 10 GT NEWPORT ST
LEICESTER SQUARE
LONDON
With (possibly the original) case, mouthpiece, and crooks – A, Ab, G.
Bought from dealer Phillip Thorp philsmusic7@gmail.com
Renovations made by Larry Sinclair of South Shields, Tyne and Wear, NE346NE
[1] The Times February 9th & 11th 1848 p1.