Published book:
'The Distin Legacy: The Rise of the Brass Band in 19th-Century Britain'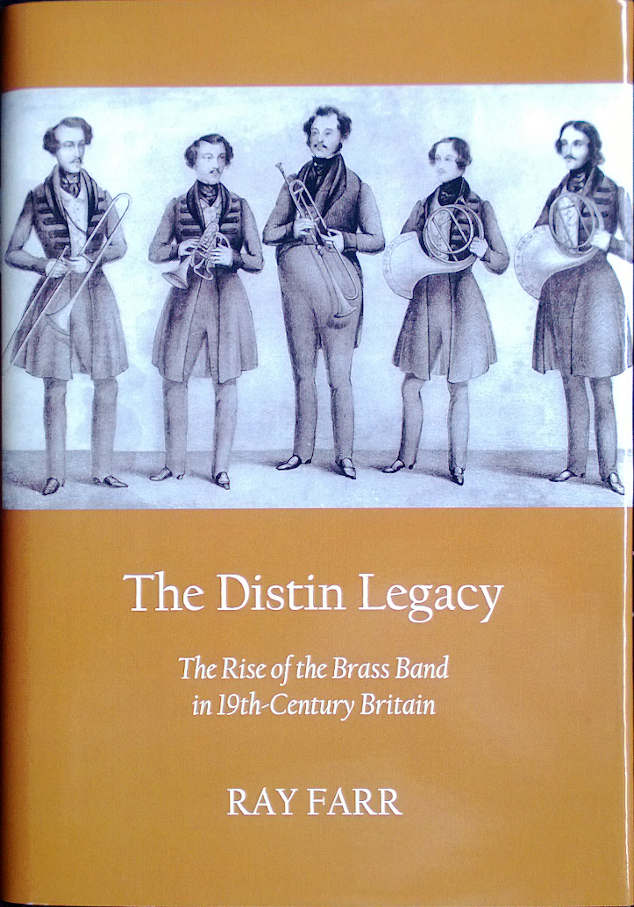 Publisher: Cambridge Scholars Publishing, Newcastle, UK. Date of Publication: January 2013
The rise of the brass band in 19th-century Britain is a historical, social and cultural phenomenon which represents the foundation of the modern international brass band movement. Authors such as Trevor Herbert, Arnold Myers and Roy Newsome mention and acknowledge the relevance of the Distin Family brass ensemble; however, extensive research has produced new information. This book examines the various Distin projects as the main reason why brass bands of today are established in their current form.
Ray Farr (born in Hereford, England, 1948) is an experienced and recognized conductor, arranger and adjudicator. He works with orchestras, wind bands and brass bands on a worldwide freelance basis. His increasing interest in the history of brass bands has triggered research activity, the completion of a Master's degree in Arts, as well as ongoing studies for a doctorate.
Price Uk Gbp: 54.99 Price Us Usd: 82.99
Available from: Cambridge Scholars Publishing 12 Back Chapman Street Newcastle upon Tyne NE6 2XX
or: http://www.cambridgescholars.com/the-distin-legacy-14
Book reviews:
'The depth and detail of the research is impressive.'
'Extensive quotations impart a distinctive period flavour.'
'Behind the documentation a fascinating story of skill, scandal, opportunism and showmanship that could provide rich pickings for the narrative biographer.'
'There are ten chapters, each devoted to a different aspect of the wide-ranging life and times of this fascinating family. Those detailing the Distin family as performers, builders of repertoire, pioneering instrument suppliers and their crucial role in developing the brass band sound are the strongest.'
'The Distin Legacy is well illustrated, and a significant documentation of a pioneering period of brass band history.' Paul Hindmarsh (British Bandsman Magazine. September 2013)
'Ray Farr has gathered material from many contemporary sources to bring the picture into focus in fascinating detail.'
' He has combed through newspaper reports, tracked down images and scoured the published literature to piece together a very readable account of the Distin family's activities as musicians, entrepreneurs and manufacturers.'
'The author has used this account to argue that many characteristics of today's brass band derive from the Distin legacy.' Arnold Myers (The Brass Band World Magazine. September 2013)
'I loved it!' Professor Stephen Allen (Rider University)
Published music:
Title
Orchestration
Solo
Composer
Publisher
15 Små Styke
Ensembles
Ensembles
Eide
Norsk Noteservice
Adagio
Brass Band
Cornet
Rachmaninov
Wright & Round
Adventures
Wind Band
Farr
Obrasso
Adventures in Brass
BB
Farr
Obrasso
Agincourt Song
BB
Anon
Rosehill
Alabamy Bound
BB
Anon
Musikverlag-Frank
Ave Maria
BB
Cornet
Bach/Gounod
Prima Vista
Be My Love
WB
Euphonium
Brodszky
Prima Vista
Be My Love
BB
Euphonium
Brodszky
Prima Vista
Bergenhus March
BB
Aafløy
Musikverlag-Frank
Bergenhus March
WB
Aafløy
Musikverlag-Frank
Blaythorne Suite
BB
Cornet
Nicholas
Studio Music
Bowburn March
BB
Farr
Wright & Round
Bryllups Intrada
BB
Ugland, Johan Varen
Nordic Sounds?
Bubbles was a Cheerleader
BB
Soprano Cornet
Williams
Prima Vista
Call of the Righteous
WB
Condon
Gobelin?
Can You Read My Mind

(See Love Theme from Superman)

BB
Williams, John
Kirklees
Cantilena
BB
Farr
Prima Vista
Close to You

(They Long to Be)

BB
Trombone
Bacharach
Norsk Noteservice
Confutatis (from Requiem)
BB
Mozart
Nordic Sounds
Dance Warily

(Dans Varsomt)

BB
Farr
Norsk Noteservice
English Dances (8)
BB
Arnold
Out of Print
Fanfare & Choral
BB
Hovland, Egil
Norsk Noteservice
Festival Prelude
BB
Nielsen
Obrasso
Firebird
BB
Stravinsky
Kirklees
First Circle
BB
Metheny
Norsk Noteservice
First Shoot, The
WB
Walton, W
Norsk Noteservice
Four Cornish Dances
BB
Arnold
Out of Print
Four Scottish Dances
BB
Arnold
Out of Print
Fugue in D minor
BB
Bach
Norsk Noteservice
Galaxies- An expedition for Band
BB
Davis
Kirklees
Galaxies- An expedition for Band
WB
Davis
Kirklees
General Jacksons Schottishe
BB
Tidswell
Norsk Noteservice
Gethsemane
BB
Sop Cornet
Lloyd-Webber, A.
Musikverlag-Frank
Good, The Bad, & The Ugly
BB
Morricone
Prima Vista
Good, The Bad, & The Ugly
WB
Morricone
Prima Vista
Goodbye to Love
BB
Horn
Carpenters
Hallamshire
Goodbye to Love
10 Piece
Horn
Carpenters
Hallamshire
Hallelujah For Handel
BB
Drefus
Wright & Round
Hjalar-Ljod
BB
Groven
Prima Vista
Holiday for Strings
BB
Rose
Studio Music
Hundred Folk Tunes from Hardanger

1: Velkomne med ære

2: Flyteljod

3: Fagraste Viso pao joræ

4: Langeleiklåt

5: Hastverksbrudlaup

6: Guds godhet og Guds storhet

The other movements in the suite are not published

BB
Tveitt, G
Nordic Sounds
I Say a Little Prayer
BB
Bacharach
W&R
In Paradisum (Requiem)
BB
Faure
Nordic Sounds
Indiana Jones
BB
Williams, John
Studio Music
Intrada – Ein Feste Berg
WB
Farr
Norsk Noteservice
Intrada – Ein Feste Berg
BB
Farr
Wright & Round
It's Just Talk
BB
Metheny
W&R
Kingdom Triumphant, The
WB
Ball, E
Gobelin?
Kjempeviseslåtten
BB
Sæverud
Musikk-Husets Forlag
Lake Luzern
BB
Farr
Obrasso
Lawson's Mates
BB
Drefus
Wright & Round
Libertango
BB
Piazzolla
Norsk Noteservice
Like Always
BB
Ramos
Wright & Round
Lite Styke Norge
WB
Eide
Norsk Noteservice
Live & Let Die
BB
Soprano Cornet
McCartney
Norsk Noteservice
Live & Let Die
WB
Trumpet/Flugel
McCartney
Norsk Noteservice
Lyric Dance
WB
Okkenhaug
Prima Vista
Midnight Sleighride / Troika
BB
Prokovief
Wright & Round
Midnight Sleighride / Troika
WB
Prokovief
Tradewinds
Minuano
BB
Metheny
Prima Vista
No Matter What
BB
Lloyd-Webber
Rosehill
Nocturne
BB
Cornet/Flugel
Lovland
Prima Vista
Nocturne
WB
Trumpet/Flugel
Lovland
Prima Vista
Nothing's Gonna Stop Us Now
BB
Arcadia Music
O Holy Night (Julesang)
WB
Cornet
Adams
Gobelin
O Holy Night (Julesang)
BB
Cornet
Adams
Gobelin
On the Town
BB
Bernstein
Norsk Noteservice
On the Town
WB
Bernstein
Norsk Noteservice
On With The Motley
BB
Soprano Cornet
Leoncavallo
Rosehill
One Voice
BB
Manilow
Studio Music
Optimist
WB
Vocal
Teigen
none
Our Kind of Love
BB
Lloyd-Webber
Rosehill
Over the Rainbow
WB
Trumpet/Flugel
Arlen
Norsk Noteservice
Over the Rainbow
BB
Flugel (Eb)
Arlen
Norsk Noteservice
Pilgrim of Love
BB
Trombone
Bishop
Norske Noteservice
Pilgrim of Love March
BB
Trombone
Bishop
Norske Noteservice
Poinciana
BB
Simon/Bernier
Studio Music
Recado Bossa Nova (The Gift)
BB
W&R???
River Dance
BB
Whelan
Wright & Round
Roaring Days
BB
Drefus
Wright & Round
Robert the Devil
BB
Meyerbeer
Norsk Noteservice
Rush
BB
Drefus
Wright & Round
Russian Funeral
BB
Britten
Faber
Softly, Softly
WB
Fry
Prima Vista
Softly, Softly
BB
Fry
Wright & Round
Sonata
WB
Clarinet
Brahms
Tradewinds
Star Wars
BB
Williams
Norsk Noteservice
Superman
BB
Williams
Kirklees
Superman – Love Theme "Can You Read Mind"
BB
Williams
Hallamshire
Sweet & Low
BB
Euphonium
Barnby
Hallamshire
Sweet & Low
10 Piece
Euphonium
Barnby
Hallamshire
Symphony #3
BB
Khachaturian
Prima Vista
Taste of Honey (A)
BB
Scott Robert
Wright & Round
Toccata
BB
Bach
Studio Music
Toccata
WB
Bach
Studio Music
Torn Erik's Song
BB
Tuba
Traditional
Norsk Noteservice
Vaults of Heaven
BB
Lloyd-Webber
Rosehill
Viking Saga
BB
Farr
Norsk Noteservice
Viking Saga
WB
Farr
Norsk Noteservice
Volunteer Artillery & Rifle Corps March
BB
Jackson
Norsk Noteservice
What Now My Love
BB
Becaud
Norsk Noteservice
Whistle Down the Wind
BB
Lloyd-Webber
Rosehill
Winter Games
BB
Foster
Norsk Noteservice
Why Did I Choose You.
WB
Trombone
Leonard
Norsk Noteservice
Why Did I Choose You
BB
Trombone
Leonard
Norsk Noteservice
Yorkshire Waltzes
BB small
Jackson
Norsk Noteservice
You Raise Me Up
BB
Lovland
Nordic Sounds
You Raise Me Up
WB
Lovland
Nordic Sounds